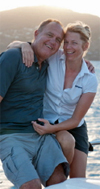 Well, I met my kitchen idol last week – the chef on my brother's boat Sea Bass. Kai is from South Africa, and she and her husband Alan not only take care of everything aboard Sea Bass, but they also have first class hospitality mastered. Every part of our trip was perfect, but you know me, the FOOD was the highlight of my experience.
Not only are all of Kai's meals gluten free, but she also focuses on fresh healthy fruits and vegetables, using no recipes to make them taste great – just her creativity with local herbs and spices.
Upon arriving, she served us dinner at about 9 at night. I didn't think to take pictures – not realizing just how amazing each meal would be. She started us off with melon wrapped with prosciutto, grilled chicken and pineapple skewers, and fresh tomatoes with mozzarella and basil for a delicious Caprese salad. Not one lick of it was left over. So fresh, so fabulous, and so simple, which was the best part.
For this week's what I ate Wednesday post, I thought I'd take you through a typical day for us on the boat with pictures of three of her amazing meals.
Every morning, we started out with what I would call a European breakfast. My husband's family is from Holland, so many years ago, I joined him for a weekend trip there. We toured his family's tulip farm and enjoyed their hospitality and traditional foods. Kai's breakfast reminded me of our breakfasts in Heemstede – fresh vegetables, meats, cheeses, and fruit from the market that morning. Two mornings, Kai even made us fresh gluten free bread using a combination of almond and potato flours, which was a huge hit with my kids. The picture below is of my dad on our first morning aboard Sea Bass.
My brother planned an active and very fun itinerary every day (my kids are the first youngsters he has hosted, so he took extra care to make sure they did no less than about 10 activities each day!), but we made our way back to the boat for lunch to enjoy one of Kai's healthy meals. One of my favorites was this grilled shrimp salad with tomatoes, red peppers, sun dried tomatoes, olives, and a tangy honey mustard dressing. After refilling our tanks, we set back out for more activity.
At about 4 or 5 each day, we generally settled back on the boat to be served a late afternoon snack. One example was a melted brie cheese with herbs and preserves (I think fig, but Kai will never tell – each meal is a secret) served with radishes, roasted red bell peppers, salami, olives, and Glutino crackers for dipping. And of course she and Alan surprised us with a different cocktail each afternoon – my favorite being her version of the Bushwacker, a local favorite in the BVI. So sweet and indulgent but very worth the splurge in calories! My kids enjoyed virgin versions, and we all agreed the fresh grated nutmeg that garnished each drink was the best part.
Dinners were a slightly heavier version of lunch. One of my favorite meals was the day we had barbeque ribs. Confession – I think I've only eaten ribs maybe once or twice in my life! For whatever reason, they haven't sounded appetizing to me, but that changed aboard the Sea Bass. I will have to learn how to make ribs like Kai's. They were ridiculously delicious! She served a beautiful salad (her presentation is as amazing as the taste) of artichokes and avocados on romaine with a garlic dressing. And, to go with the ribs, we enjoyed "mealie", which is the South African name for corn, that Kai had made into a warm salad or side dish with tomatoes and chives. Again, not one morsel was left over.
What I wouldn't give to be Kai's shadow for a day, so I could see how she shops and comes up with her ideas for such simple and elegant meals. Just from spending one week at her table (as I said, what goes on in the kitchen, stays in the kitchen – a surprise), I gathered these four tips we can all put into practice for healthy and delicious meal planning.
Kai shops without a list necessarily, but instead focuses on buying whatever is local, fresh, and looks good that particular day at the market.
She uses fresh spices and herbs in every dish.
She focuses on naturally gluten free fresh foods instead of trying to mimic those gluten-containing foods we all remember. This results in healthy meals with plenty of clean protein and fresh fruits and vegetables.
Kai adds a little something naturally and gently sweet to most of her dishes, such as apricot or fig preserves, honey, or roasted red peppers. This was a refreshing surprise!